Evonne Barrett with buyer Sam Barton, Huntly Droughtmasters, Clermont. Photo: Hayley Kennedy, Queensland Country Life.
It has been a terrific bull selling season for us at Konjuli. As first time vendors at both the Central Reds Droughtmaster Bull Sale at Emerald in September and the CQ Invitational Droughtmaster Sale at CQLX at Gracemere in October, we nominated three bulls for each sale.
Our best price at Central Reds Sale
After selling our small truck back in June we jumped on board with fellow vendors, Seymour Droughtmasters, to get to  the Central Reds Droughtmaster Bull Sale. They were were generous enough to share their truck.
We were ecstatic when we received the highest price in our bull selling career when we sold Konjuli Noice at the sale for $12,000 to Talagai Grazing Co. Capella.
First-time sellers at CQ Invitational Droughtmaster Sale
We purchased a new truck in July and were hoping it was going to be ready for the CQ Invitational Droughtmaster Sale in October. Unfortunately, there was a wait on getting the tray and crate built so we approached our usual livestock carrier Doug Pratt Livestock Transport. He generously offered the use of one of his trucks to help us out to get to Gracemere.
We loaded our bulls to head to Gracemere to the CQ Invitational Droughtmaster Sale. Stepping into a sale for the first time has all the senses running wild. We were very proud of our draft – as cattle breeders would understand – but didn't realize the impact of attraction our bulls had garnered.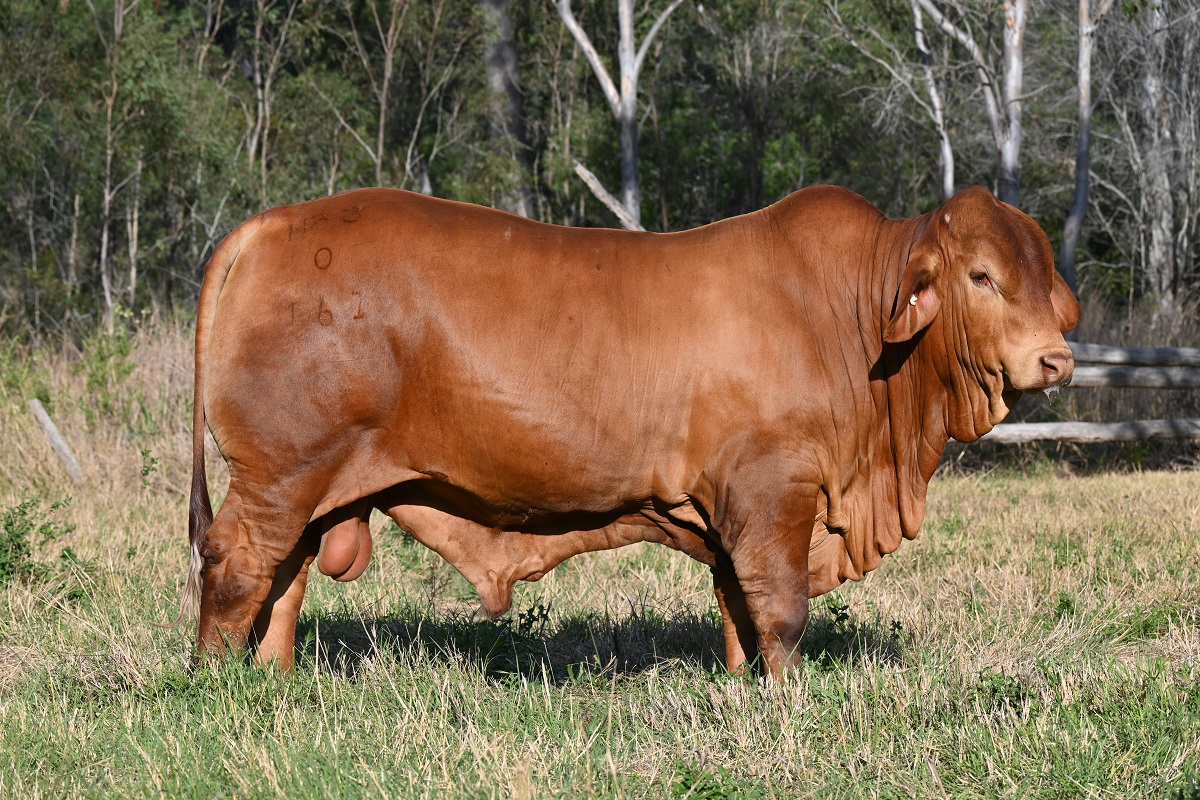 Konjuli Nikko, sold to Sam and Jane Barton of  Huntly Droughtmasters
Konjuli GJ get their best price to date
Grace and Jade led our draft with an AI son of Redskin Budweiser out of Strathfield Honey 50 which they had purchased as a heifer.  This bull had the personality as well as the goods in all departments. He sold to a terrific stud, Riverland Droughtmasters, owned by Gary and Jillian Little of Millaa Millaa for $32,500.
Nikko exceeded all our expectations
The last of our draft Konjuli Nikko sired by Huntly Rump out of Konjuli Faith 2. He exceeded all expectations by achieving the highest price of the 2021 sale of $50,000. We are very pleased Nikko went to a prominent Droughtmaster Stud, Huntly Droughtmasters, owned by Sam and Jane Barton.
Konjul & Konjuli GJ would like to thank all bidders and buyers for their assistance and support in our 2021 draft of bulls. We look forward to seeing everyone again next year at the sales.